Bachelor of Science Information Systems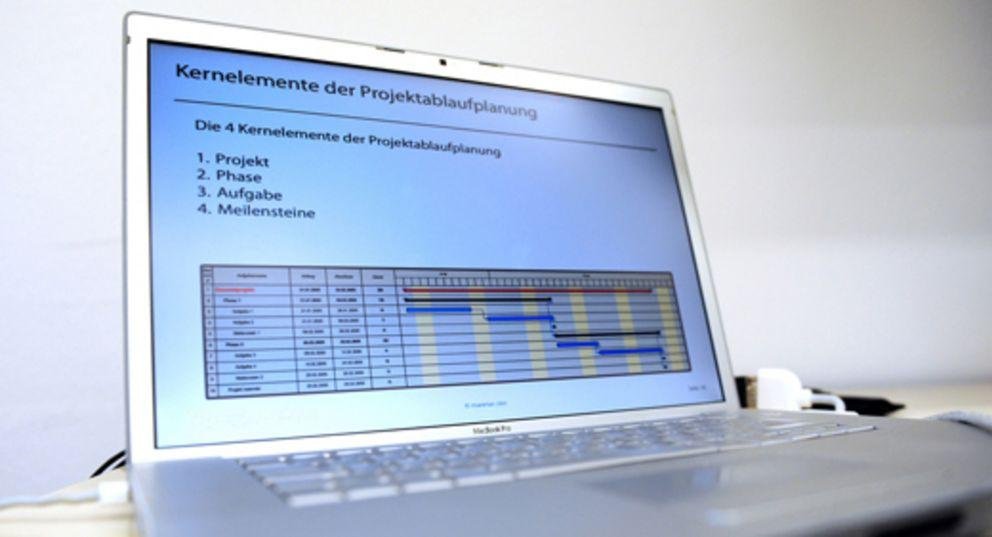 Quick facts
Programme
Information Systems
Degree awarded
Bachelor of Science (B.Sc.)
Duration and credits
6 semesters; 180 ECTS credits
Starts in
October (winter semester)
Language of instruction
German
With organisational information processes growing increasingly complex, there is a strong need for experts able to bridge the divide between business administration and computer science. The Information Systems programme provides thorough training in both subject areas. When you study this programme, you learn how information and communication systems are designed, structured and used in business contexts, in addition to gaining technical and methodological know-how in the area of systems design. The programme also centres on finding solutions to business and management problems related to information systems.
The programme focuses on current challenges faced by modern enterprises and is strongly intertwined with elements from the business administration curriculum
A hands-on programme which reflects current business practices using state-of-the-art technologies
International outlook: study abroad for a semester, e.g. at one of the University's worldwide partner universities
If you wish to continue your studies after graduating, this degree enables you to take up a related Master's programme at the University of Passau or elsewhere. The University also offers a Master's degree in the same discipline
Career prospects
As an Information Systems graduate, there are many possible career paths open to you, e.g. in private-sector companies, public administrative bodies or non-profit organisations. Working in the fields of information and data management, systems development or electronic commerce, you will be able to liaise and negotiate at eye-level with IT experts and business users. You may also be entrusted the task of planning new business processes or redesigning and optimising them. In this area, the use of media content plays a significant role, e.g. in the field of knowledge management. You will also develop the necessary skills and competencies to successfully supervise and implement the deployment of systems in business enterprises.
Programme syllabus
The programme consists of four module groups:
A) Core modules
B) Compulsory elective modules for Information Systems
C) Focus modules
D) Elective modules (foreign languages/key competencies)
A) You will study the following subjects: Business Accounting; Business Decision Theory; Cost Accounting; Organisational Planning; Microeconomics; Operations Management; Marketing; Mathematics and Statistics for Business/Economics; Introduction to Computer Science; Principles of Information Systems; Business Information Systems; Business Process Management; Internet Economics; Software Engineering; Data Structures, Algorithms and Complexity; Databases; Information Systems; and Software Development Moreover, you will complete an Information Systems seminar and a Team-based Software Development project seminar.
B) You will choose four compulsory electives from the following areas: IT Management; ERP Systems Lab: Business Processes; ERP Systems Lab: Development; Computational Economics Lab; Mathematical Software Applications
C) You will, moreover, be given a choice of additional modules from the following focus areas:

1) Internet Business
2) Data and Knowledge Management
3) Entrepreneurship
4) Accounting, Finance, and Taxation
5) Management, Innovation and Marketing
6) Economics
7) IT Law
8) Computer Science & Mathematics
9) General Studies
D) You will study a foreign language. Our subject-specific language programmes are studied alongside the degree subject and allow you to develop language skills, technical vocabulary and gain fundamental knowledge of the economic system in the relevant region of your chosen language. You will, moreover, complete at least one transferable skills course offered by the Centre for Careers and Competencies.
Academic entry requirements
To apply for this degree programme you need a recognised university entrance qualification, e.g. the German Abitur or an equivalent qualification.
German language requirements
You will need German language skills at level B2 CEFR or higher to study this degree programme, as that is the main language of instruction for this programme. Therefore, you will have to provide a recognised German language certificate such as DSH-1 or TestDaF 3×4 with your application, unless German was the language of instruction for your secondary school education (e.g. Abitur at a German international school).
The University of Passau has set up a German language teaching unit, German Courses Passau, which offers a selection of preparatory language programmes tailored to the needs of international students. These range from summer courses to a full academic year and cater to learners of all levels.